Telly Savalas and the Good Samaritan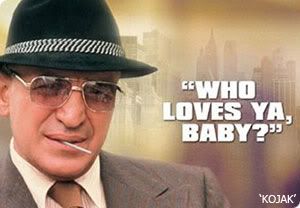 The popular Kojak actor, Telly Savalas, had a ghostly encounter in 1959. Coming home to Long Island after a date at two o'clock in the morning, Savalas ran out of gas.
He started walking toward the freeway when a high-pitched, eerie voice sounded behind him from the road saying, "I'll give you a ride." Savalas hadn't heard the car drive up, but he accepted the ride.
The man wore a white suit and was driving a Cadillac.
When they arrived at the gas station, the man offered to pay for the gas, even though Savalas hadn't said anything about not having any money with him. He accepted the generous offer, getting the man's name and address so he could send the money to him the next day. The man then drove him back to his car.
On the way there, he told Savalas that he knew a Red Sox baseball player and even gave him the name. Perplexed, Savalas just nodded. The man helped him fill the car with gas, and the man pushed the car to get it started while Savalas sat behind the wheel.
The next day, the newspaper headlines reported that the Red Sox player had been found dead the previous night.
Savalas discovered the man had also written down his phone number, so he called it and talked with a woman who became very upset when he asked for the man. She told him that her husband had been dead for two years.
Savalas later contacted her again, and the woman verified that the clothes the Samaritan wore were her husband's burial clothes. His signature on the paper matched her husband's handwriting. The only thing that didn't match was his high-pitched voice since he had a deep voice.
While talking further, Savalas discovered that the man had committed suicide by shooting himself in the throat, and this had destroyed his larynx.
Watch Telly's Interview Below!